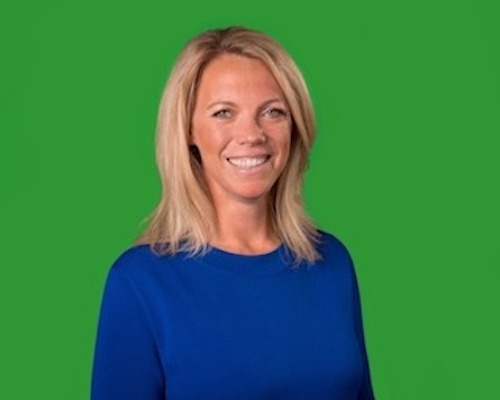 Can you explain what your company does, and your role and responsibilities?
CoGo is an ethical FinTech business. We use data and tech to help consumers and businesses understand their impact on people and the planet.
18 months ago, we launched a carbon footprint tracker linking people's spending to carbon emissions based on what and where they are spending, to give people their own personalised carbon footprint. We then personalise a series of actions that people can take to help them reduce their carbon footprint and we send them feedback to recognise when they have made changes, so they can see how their actions are helping to make a difference to the climate crisis.
So, how did you land your first job? Is it relevant to the job you are doing now?
I started life working in account management for a big advertising agency. Whilst it's a far cry from what I do now, the skills I learnt there, such as the importance of having a clear proposition and target market, and how to pitch USPs, have been invaluable to me throughout my career.
Having starting in account management, I became fascinated by targeted marketing and wanted to learn more about the significant value of data. I was always a little frustrated when I worked on big campaigns that there weren't more measures in place to report on who saw the ads and give more feedback. As a result, I moved into the space of targeted marketing and this really kickstarted my career as I have spent most of my time helping businesses optimise their customer data and use it to influence their behaviour.
Talk us through your career progression…
When I moved into the targeted marketing space, I started working with Tesco Clubcard. I saw first-hand the power of using customer data intelligently to help inform Tesco on their customers spend patterns to inform and influence their shopping experience. It is quite amazing when you think we all seem so different and yet there are clear shopping patterns that emerge based on your lifestage and lifestyle.
I started to specialise in customer data. I worked at Nectar and collaborated with a number of big brands including Sainsbury's, eBay, British Gas, Heinz and Unilever, helping to leverage data for competitive advantage.
After this, I worked for Virgin Management - it was here I really saw the power of putting purpose at the heart of business. Not just an add-on in an annual report, but something that was intrinsically linked to the commercial success of the business.
Seeing purpose acting as a true differentiator and having seen the significant value of customer data for businesses, I became passionate about how I could help use data for good - to help consumers make better decisions for themselves, based on seeing this insight.
That's how I ended up at CoGo - a small scale up business. Ben Gleisner, the founder, was a climate economist and had worked at the UN and NZ government. He is passionate about how we can help connect consumers with businesses who share their impact. At the heart of the solution is empowering consumers through data and tech.
I have been at CoGo for the past 18 months and loved every minute. As the UK CEO, I have grown the business significantly, both in revenue and the team. I have led out commercial partnerships with big financial institutions, including NatWest, on how we can bring out solutions to the masses.
How important are your qualifications vs your hands-on experience in your role?
My qualifications aren't directly relevant to the job I do today but I guess without them I wouldn't have got my foot in the door in the first place. A significant part of my role has been learnt from hands-on experience, working with amazing people (and some not so amazing people), and ultimately upskilling in areas I have really enjoyed and/or wanted to pursue such as data analytics and carbon emissions.
Any advice for jobseekers looking to get into your area of expertise?
You don't necessarily need a degree in climate economics if you are passionate about sustainability and ethical living. Be clear on what your personal purpose is and, equally, what skills you can bring to a business to help. Your skills could be relationship building, marketing, sales, or it could be more technical like coding - it's more a question of how your talents can be applied.
Seek out companies who share your values. The good news is there is a plethora of sustainable businesses out there, for example, finding solutions to the climate crisis or addressing the growth in social inequality.
And finally, don't be put off by industry or technical jargon. CoGo is an ethical FinTech - most people don't know what that means - but what is important is the company's mission. I'm not a ex-banker or a software engineer but that didn't mean my skills aren't relevant to the company. I am able to bring my commercial experience to CoGo to help grow the business to deliver scale and impact.